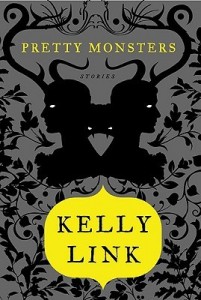 This post is about Kelly Link, and my newly found love of her stories.
I discovered her recently in The Year's Best Science Fiction and Fantasy: 2012 edited by Rich Horton. Kelly's story, "The Summer People", is included in this anthology, and I fell madly in love with it. The strange toys, the odd relationship between Ophilia and Fran, and the fantastically dark yet hopeful ending all drove me crazy. I read it a second time right away, and then promptly purchased Kelly's story collections, Magic for Beginners and Pretty Monsters, and the anthology she co-edited with Gavin Grant; Steampunk! An Anthology of Fantastically Rich and Strange Stories.
Aside from the work all being remarkably original and imaginative, Kelly's stories include some of the most masterful endings that I have read in recent memory. One could even say that many of them don't end at all, but leave you with just enough mystery or intrigue or excitement that the curiosity of all the possibilities that could come next is better than any concrete ending.
For anyone who has not read her work, allow me to suggest three stories to get your acquainted:
"The Summer People" – The first story of her I read. Great characters. Mysterious and dark premise. Haunting payoff at the end.
"The Wrong Grave" – the opening line reads; "ALL OF THIS happened because a boy I once knew named Miles Sperry decided to go into the resurrectionist business and dig up the grave of his girlfriend, Bethany Baldwin, who had been dead for not quite a year."    This is the first story in Pretty Monsters, and starts the collection off wonderfully. With a title like that, what could go wrong for Miles?
"The Faery Handbag" – When I read this story I had no idea that it had won a Hugo, a Nebula, and a Locus award. When I finished reading, I was so in love that I looked it up online straight away and was not surprised to learn of its accomplishments. This is a marvelous tale of magic, family, and love.
Kelly's co-edited anthology, Steampunk! An Anthology of Fantastically Rich and Strange Stories. includes the story "The Summer People", as well as many equally amazing stories. Two standouts for me were:
"Some Fortunate Future Day" – by Cassandra Clare
"Steam Girl" – by Dyllon Horrocks
Kelly Link's stories are fearless, emotional, and filled with heart and wonder. I can't get them out of my head. I'm hoping to channel some of that into my own work from now on. Push that doubting, nagging voice that keeps telling me that this idea is not worth it or that character will never work out, out of my head and take some chances.
Do you have a favorite Kelly Link story? Have you discovered any writers recently whose work inspired you? Leave a comment and let me know.