Last Sunday, Nathalie and I ventured forth to one of my favorite places; The Maryland Renaissance Festival. If you live close enough to go, I can't recommend it enough. The atmosphere is great, the beer and activities are reasonably priced, and the shows are always fabulous. Like many who go to these fests, Nathalie and I dress up. We didn't get a picture this year, but below is a photo from last year. We essentially wore the same thing.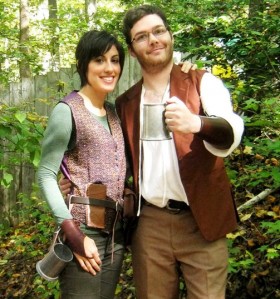 We'll be there two more times this season, our second trip this weekend when our friends Peter and Hattie visit from Seattle.
The day after we went, though, I came down with a pretty nasty cold. I'm still getting over it today, over a week later. Cough Cough. Grumble Grumble.
***
The last regular season game of baseball is tonight. The O's are in the playoffs. LET'S GO O's!
***
I've got my monthly writing critique group tonight, where I'll be getting feedback on the newest version of a short story I mentioned two posts ago. Since then I've cut almost half of the story, (including an entire character). Depending on the feedback I get tonight, I may finally send this one out.
In terms of reading, it's the beginning of the month, which means many online publications are posting new work this week! This is always a great time of month for short fiction. Three great publications that have updated, or will be this week, are linked below if any visitors want to check them out.
Many more fantastic publications are around the web as well. As I update this blog more regularly, I'd like to highlight stories I've enjoyed from many of them, so look for that in the future.