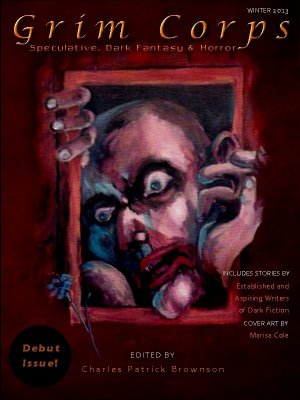 I am thrilled to announce that I have made my first short story sale. "The Black Pageant" will appear in the debut issue of Grim Corps Magazine, edited by Charles Patrick Brownson. From their website: "Grim Corps is a biannual magazine that specializes in original speculative, dark fantasy, and horror short fiction with an emphasis on promoting both new and established writers."
The issue is set to release on or before February 1st, 2013. Keep an eye on their website for the full list of contributors in the debut issue.
I had a goal of achieving my first accepted work of fiction in 2012, and it came down to the wire, but I was able to do it! I really like this story and couldn't be happier that it will be the first one to see publication.