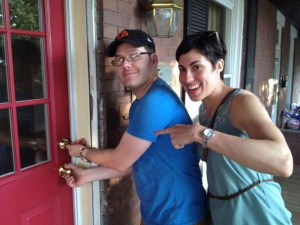 At the end of April my wife and I had an offer accepted on our first home, and we closed at the end of June. We've been in the new house for a little over a month now and it already feels like home, even if it doesn't entirely look like it yet. After years of apartment living, it was a quick realization that getting an entire house furnished and finished looking is going to take a long, long time. It will be worth that wait though, I'm sure. One of my "must haves" during the search was a room of my own with a door, and this house provided it. I, at last, have a real writing office. It's almost entirely done, and I only need some new bookshelves and a frame for a print I plan on hanging on the wall. I love having a place away from everything else in the house to focus and write.
The house buying process put a pretty large dent into my writing and submitting routine. Thankfully, now that the house is ours and we're settling in, I am back to writing daily and submitting regularly. I'm nearly done with a new story that I'm especially happy with, and looking forward to polishing it up and sending it out.
No new acceptances to report, though two of my stories have been out for a while. One for 50+ days and another for 85+ days. I like both stories, and even if they don't find homes where they are currently subbed, I'm confident I can find a place for them to live in time.
I've gotten a lot of reading done so far this year too. Some books I've especially enjoyed are: N0S4A2 by Joe Hill, Among Others by Jo Walton, and Edge of Dark Water by Joe R. Lansdale. Only after writing that last sentence did it dawn on me that each of those authors is named Joe or Jo. I also really loved Douglas F. Warrick's collection of short stories, Plow the Bones, and Helen Marshall's Hair Side, Flesh Side. Both are wonderful collections of dark fiction.