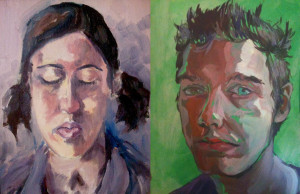 My wife and I will be closing on our first house in just over a week. It's been a lot of headaches and stress, but the end is in sight. We're very excited to finally be homeowners in Baltimore.
While organizing our things to begin packing, we came across the above portraits that we painted of each other nearly 10 years ago. I haven't shared any of my paintings on this blog yet, but thought these, from a period of our lives that seems oh so long ago, would be a good place to start. We were both 18 then and freshmen in college. Now we are four years married and only weeks away from finally moving into a house of our own.
I'll make a post with more paintings eventually, and maybe even put a section at the top for some of them. I have some drawings as well that I'm still very fond of.
In writing news, my story "Autumn in the Woods" was accepted recently at The Colored Lens. It will be in the Summer 2013 issue. This story was another one that went through a lot of changes before finally finding a home, but I'll write more about that when it is published.
They released a preview of the cover as well. I think it looks amazing, and can't wait to read the issue.
EDIT 6/17/2013: This issue was released today! Check it out on Amazon. (Free to Amazon Prime Members)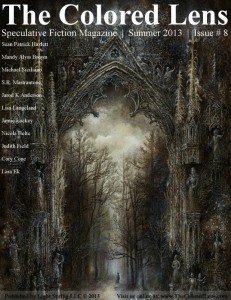 The Colored Lens – Summer 2013 Cover Preview