Shrieks and Shivers!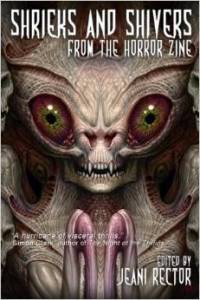 I am very excited to see that Shrieks and Shivers from the Horror Zine's paperback edition is out 3 days early! The Kindle edition will be out on the 6th, as well.
"The Horror Zine is the true home of today's visceral, organic horror, and the stories in SHRIEKS AND SHIVERS reflect the courage and imagination with which Jeani Rector has sustained this genre for the past six years. Be prepared to encounter the grue in gruesome, not only brought to you by some very experienced butchers but by some fearless and inspired new dabblers in blood, entrails and other things too horrifying to mention." – Graham Masterton
How's that for a blurb? I am still in shock that one of my stories is included in the utterly fantastic line-up of authors in this anthology (Bentley Little, William F. Nolan, Tom Piccirilli, Elizabeth Massie, Tim Waggoner and Lisa Morton to only name a few!), and I hope you'll pick up a copy and check it out.
There is also a limited edition hardback available through the Post Mortem Press website.
The release of this book marks the beginning of what I hope will be a great 2015.