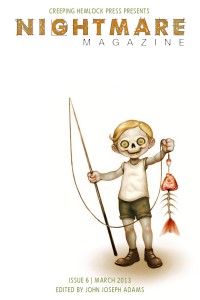 The cover of the March issue of Nightmare Magazine. It's wonderful.
Nightmare
I really enjoyed the artwork in this month's Nightmare Magazine, edited by John Joseph Adams, as well as the latest batch of stories. The creepy tale, The Infernal History of the Ivybridge Twins by Molly Tanzer, is available for free on the website, but you can read the entire issue before the stories are posted if you subscribe or purchase.
Niteblade
I sold my story, "Compassion, During and After the Fall", to Niteblade Magazine this week. I'm quite happy with this story, and glad it was able to find a home. It's estimated to appear around September. Exciting! I've also had one other story get put on hold somewhere else, and I should hear back on whether or not it is accepted in May.
Ah-choo!
I've been very sick for the last two weeks, which has not been fun. It cut into my writing and reading time a lot. But, it's now mostly sneezing and congestion, so hopefully I'm entering the final stages of this thing.