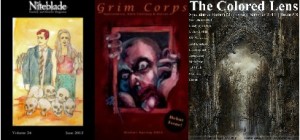 It's almost 2014, which means if I do receive any more acceptances on stories this year, they will be published next year. So, I'd say that's a wrap on 2013 publications.
I received my first acceptance just shy of a year ago, for "The Black Pageant," which appeared in the debut issue of Grim Corps. I couldn't be happier to see Grim Corps become my first real publication. It was both digital and print, and was illustrated by the very talented Luke Spooner. Issue 1 was filled was exceptional dark fiction, and issue two was even better. I was hoping to submit for their 3rd issue this month, but it looks like they've delayed submissions until the summer, but I still plan to submit again when they reopen.
I received six more acceptances and one anthology invite throughout the rest of the year to the following magazines: Niteblade, The Colored Lens, Every Day Fiction, 101 Fiction, Apocrypha and Abstractions, and eFiction Horror (renamed to Under the Bed). The anthology will be edited by Rhonda Parrish (of Niteblade) and will be called "A is for Apocalypse."
I still have not broken into a professional market, which will be an exciting goal to shoot for in 2014. My work has grown a lot in the last year, and I'm very happy with where it is going. I think with discipline, persistence and confidence, I can realize that goal next year. In 2013 I received two short-list/next round of consideration notices, a near miss, and my first "2nd tier" rejection from various professional markets that I love. It stings to feel like I am so close and still so far, but it is also very rewarding to know that I'm making progress.
A highlight of my year was the Talking Scars class that I wrote about in my last post. What a great experience it was to work with so many talented writers and with Jack Ketchum, whose passion for writing and supporting new writers was outstanding. I've since substantially rewritten two of the stories I completed in the class, and hope to see them find homes in 2014.
A good year, and here's to the next!