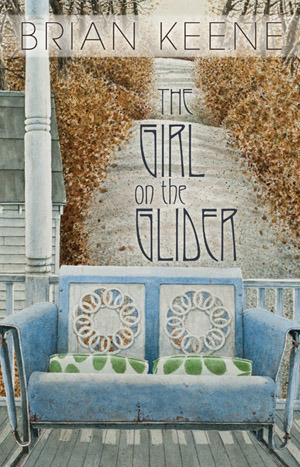 I recently read Brian Keene's The Girl on the Glider after seeing the title pop up over and over on my Twitter feed. Each tweet was raving about it, and eventually I had to check it out. The GoodReads description is:
The Girl on the Glider is Brian Keene's take on the traditional, old-fashioned ghost story. This might be Keene's most personal — and powerful — work to date. This book is a must-have for every Keene fan, along with fans of classic horror tales told with a new twist.
I read this in a single sitting, alone at my house while my wife was working late, and by the time I was finished I was depressed, quite frightened, and incredibly inspired. This story left me with that same terror I felt in my bones while reading The Haunting Of Hill House for the first time. Brian experiences many paranoid, haunting things during the course of the story, juxtaposed against the stress and struggle of living the lonely life of a full-time writer. It's not a very long read, and I highly recommend it. He touches on many of the struggles he's had in his writing life, which he also discusses in a recent blog post. Check it out on his website.
Some stories I've read recently that I loved:
Shimmer #16 came out last week. This entire issue was wonderful. In terms of January story collections, this is a must have.
I loved January 8th's Daily Science Fiction story, The Remnant by Cassie Beasley. I generally enjoy most of the stories that show up in my inbox from DSF, but this one really stood out to me this month. I read it the day it was released, and I can't get the ending out of my head.
The Cancer Catechism by Jay Lake  – Jay Lake's story in this anthology is breathtakingly personal and terrifying. It left me in tears and stands out as one of the greatest short stories I've read in recent memory. Read more about Jay Lake, his work, and his battle with cancer at his blog. http://www.jlake.com
Chew by Tamsyn Muir over at Nightmare Magazine. Great, dark story–though the entire issue is fantastic.
Looking forward to the first of the month, when many of these publications and others release their next issues. Always a great week.
What am I up to?

Hoping to finish a new novelette by next week. It's a reworking of a story I've been trying to write for a while now, and I think I've finally settled on how to tell it.
The Ravens are in the Super Bowl, which is very exciting.
I've been catching up on a lot of Doctor Who, as well as gorging myself on episodes of Always Sunny in Philadelphia.
Bought plane tickets for my annual trip to Boston for PAX East with my brother. It's one of my favorite highlights of the year, though my feet generally hate me by Sunday afternoon.
Other than that, a lot of reading and writing.