"The Familiar" to be published in Nightscript Vol. III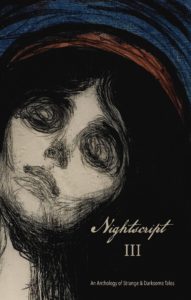 My story, "The Familiar", was accepted into Nightscript Vol. III. Nightscript is among my favorite anthology series being published today, and I am very happy that I can be a part of it.
The full Table of Contents for volume III is below. It'll be released on October 31st, 2017.
"The Flower Unfolds" — Simon Strantzas
"Downward" — Amar Benchikha
"What Little Boys Are Made Of" — Malcolm Devlin
"Grizzly" — M.K. Anderson
"Might Be Mordiford" — Charles Wilkinson
"Palankar" — Daniel Braum
"The Gestures Remain" — Christi Nogle
"House of Abjection" — David Peak
"The Undertow, and They That Dwell Therein" — Clint Smith
"A Place With Trees" — Rowley Amato
"The Familiar" — Cory Cone
"Liquid Air" — Inna Effress
"The Beasts Are Sleep" — Adam Golaski
"The Witch House" — Jessica Phelps
"On the Edge of Utterance" — Stephen J. Clark
"Homeward Bound Now, Paulino" — Armel Dagorn
"The Affair" — James Everington
"When Dark-Eyed Ophelia Sings" — Rebecca J. Allred
"We, the Rescued" — John Howard
"Twenty Miles and Running" — Christian Riley
"Something You Leave Behind" — David Surface
"Young Bride" — Julia Rust
"The Other Side of the Hill" — M.R. Cosby